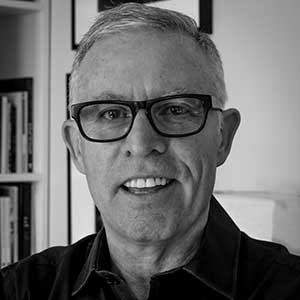 An internationally renowned and accomplished media expert with decades of experience across all aspects of the photographic industry, an innovative and successful entrepreneur with a demonstrated history of working across multiple aspects of the media.
Sullivan's career has taken him from freelance news photographer covering international geopolitical events to Director of Photography at The Sunday Times, co-founder of a successful startup image.net to Vice President of Photo Assignments at Getty images and more recently, founder and owner of Verbatim Photo, which represents some of the worlds most respected filmmakers and photojournalists.
Sullivan started his career as a staff photographer for a local newspaper in the U.K.
He then freelanced as a news photographer in Fleet St. traveling extensively, covering stories, events and conflicts in Afghanistan, Northern Ireland, India and Pakistan, amongst others.
In 1986, he joined The Sunday Times of London as a deputy picture editor, soon becoming the picture editor, the youngest in Fleet St., during a critical time when the paper was relaunched with multiple sections.
In 1993, he joined The Sunday Times Magazine and was promoted to assistant editor, responsible for all photography at the magazine, including managing all budgets and a staff of photo editors, researchers and photographers. During his tenure at the magazine, Sullivan worked closely with many of the world's leading photographers from every genre.
While at The Sunday Times of London, Sullivan and a colleague founded image.net, a leading distributor of high-resolution publicity materials for major entertainment companies.
image.net reinvented how entertainment giants distribute their publicity materials by using a digital asset transfer system that Sullivan and his co-founder created and is still the leading distribution system for the entertainment industry.
Sullivan left the Sunday Times in 2002 to oversee the growth of the now successful image.net in the United States with the major Hollywood studios but was given a contract to continue working with the magazine as an 'editor at large.
Getty Images acquired image.net in 2004 and he moved to Los Angeles as Vice President with Getty Images to continue working with the image.net team and managing the integration of the company.
In 2005, he moved to New York City and became Vice President of Photo Assignment for Getty Images, managing editorial and commercial assignments via Global Assignment for over 600 photographers worldwide. In 2009 he created the new Reportage division that attracts internationally renowned award-winning photojournalists and is now considered one of the industry's leading sources of documentary photography. Sullivan has created a roster of 15 elite photojournalists who comprise the core group within Reportage.
Other info:
Getty Images Grant for Editorial Photography – When Sullivan joined Getty Images in 2004, he took over responsibility for and re-engineered the Getty Grant, which to date has awarded over $1 million in grants for editorial projects to members of the international photographic community. Sullivan is responsible for selecting the jury, creating the judging process and announcing and presenting the award-winning work at Visa Pour L'image in Perpignan.
Director and Founder of The Ian Parry Scholarship, 1989 – Sullivan created the Scholarship following the death of Ian Parry, a photographer and close friend who died during the Romanian Revolution whilst on assignment for The Sunday Times. The scholarship is a registered charity and offers a bursary for aspiring young photojournalists. The Scholarship has helped many of the finest young photographers working in the profession. It is widely recognized as one of the most important awards for aspiring photojournalists. In 2004, he produced the book EYES WIDE OPEN, a collection of work from award winners. www.ianparry.org
A Day Without News? – After speaking on a panel at the UN opening of the World Press Photo Exhibition in New York in August 2012, Sullivan created this campaign to focus attention on, and take steps to address, the targeting of journalists in armed conflict. The campaign launched in February 2013 with the support of renowned media community members, including CNN's chief international correspondent, Christiane Amanpour, and several photographers who have spent time on the front line in conflict zones, such as Don McCullin, Tom Stoddart and Lynsey Addario.