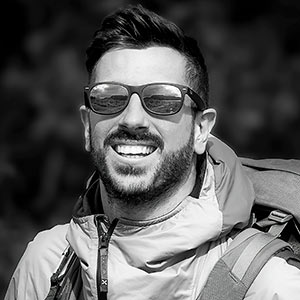 Alex Wides is a professional landscape photographer with expertise in panoramic landscape images. Since 2008 Alex has been trying to experience the beauty of nature in a special way: his expeditions, his climbs, and the weeks spent in tents are the most important thing, the experience. Over the years he has perfected an absolutely unique photographic technique, mastered the use of the ultra-wide-angle lens falling in love with the very wide field of view. His gallery and landscape philosophy collects ultrawide panoramas between 180 and 360 degrees. Photographing everything around him has become his unique style.
Today Alex is recognized worldwide as the best expert in panoramic landscapes, Alex has been awarded in the most prestigious international competitions and named in the most important newspapers. His job is actually running his company that organizes phototours and workshops around the world, he created the largest Italian landscape photography community and transmits his passion to thousands of photographers every year.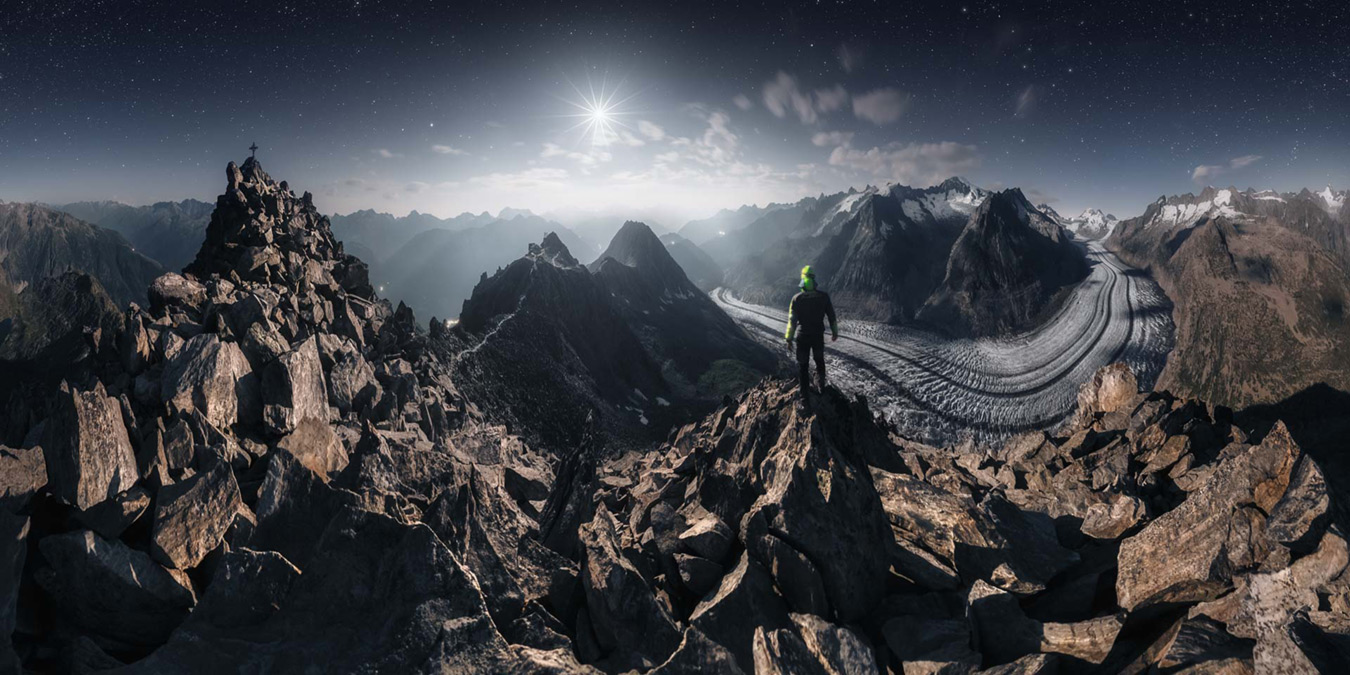 This shot represents Alex's vision at its best: a 360 degrees panorama that captures every element surrounding the photographer during his on-location experience. This beautiful glacier is located in the Swiss Alps, Alex has been exploring these areas for weeks looking for places to show in his way, he chose this viewpoint because it is at a good height to have a wide and rich perspective of elements, the choice of the night was done by planning the moon phase and the position of our satellite so as to capture the moonlight directly on the glacier.
This image represents Alex's challenge to create something different, something exclusive, everywhere. In the phototours Alex organizes every year in Iceland he was able to see this famous spot in many different conditions, he wanted to wait to create something unique... This morning's sunrise was special: the rain was heavy and the sun filtered through the fog creating a surreal light, in about 20 seconds a rainbow (two actually) appeared and filled the area to the photographer's left, creating symmetry of elements and giving the scene a unique touch.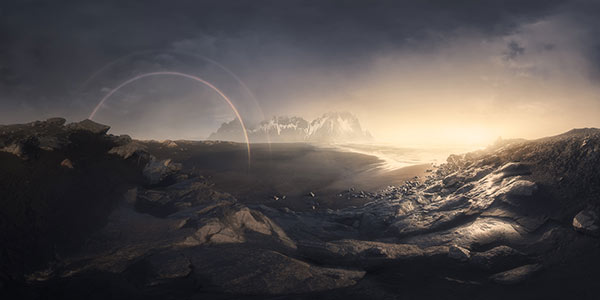 Over the years Alex has gained much fame in the Italian landscape photography community, has been invited to several Italian cities for workshop events, lectures and talks with cultural and photographers' associations. He has written several articles for Italian magazines such as "Il Dolomiti" (a magazine about the Dolomites) and participated in interviews on radio and television. He was exhibited for a year at the Royal Greenwich Museum in London, and he filled, with his images and his team images, 22 meters of wall in a shopping mall that hosts 8Mln visitors each year in Rome.
Alex has appeared in the Times, Forbes, National Geographic Espana, SkyTg24, Lens Culture, The Independent, and Royal Meteorological Society.