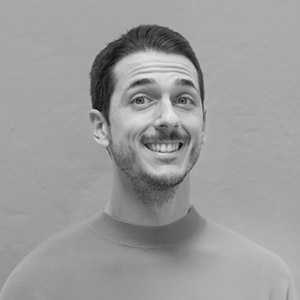 Daniel Rueda Cuerda is an award-winning Spanish photographer and former architect born in 1990. In professional partnership with Anna Devís, their work is widely recognized for its witty imagery, hand-made installations, perfectly executed poses, and playful architectural interactions.
Devís and Rueda met in València during their studies and graduated together from the School of Architecture at the Universitat Politècnica. Since then, they have travelled worldwide to seek out the quirkiest buildings, using their facades as backdrops to tell their stories. By combining their spatial awareness and artistic vision, they have established magnetic and joyful narratives that cleverly suggest both the nature of human relations and the fascination with the urban environment.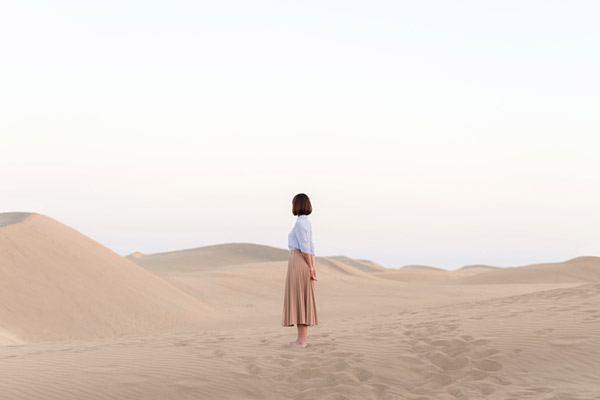 But if there is one factor that has particularly contributed to Anna and Daniel's success, it is that each brings a unique and complementary set of skills to their collaborative practice. Daniel's expertise in capturing architectural beauty strongly influences the duo's distinctive style. His precision and technical finesse ensure that each photograph reflects a harmonious balance between the subject and its surroundings. His commitment to excellence is evident in their works, characterized by a delicate aesthetic inspired by the city, geometry, and minimalism.
In 2020, Devís and Rueda were named Hasselblad global ambassadors and included in the Forbes Europe 30 Under 30 list in the Art & Culture category for "the inventive use of everyday objects and natural light" in their photography. The duo's unique and unmistakable approach has also led them to work with brands such as Netflix, Samsung, Disney, Swatch, Facebook/Meta and Adobe, among others. In addition to having participated in numerous advertising campaigns, their work has also illustrated festival posters, book and album covers and has been published in numerous publications such as The New York Times Style, El País, Die Zeit, Forbes, Glamour, and The Guardian.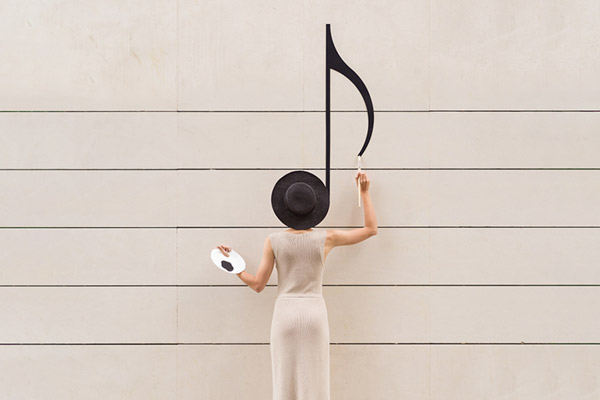 Hasselblad Ambassador and Forbes 30 under 30 honouree, Daniel Rueda is an imaginative Spanish photographer born in 1990. In professional partnership with Anna Devís, their compositions are widely recognised for turning worldly spaces into whimsical works of art by adding an unexpected and playful twist.
Devis and Rueda met at university, where they both graduated from the School of Architecture. Today, this creative duo puts to use their architectural backgrounds to tell stories through fun and surprising images that are far from conventional architecture photography. Their particular style is characterised by their visual sense of humor, creativity, precision, and a delicate aesthetic inspired by the city, geometry, and minimalism.
Their works have been exhibited internationally with solo exhibitions in Europe and the USA and published in renowned publications such as The Guardian, Forbes, Die Zeit or El País. In summer 2023 they published their first book, Happytecture.
Books, Films and Exhibitions
Book Publications:
Happytecture, (2023)

Solo Exhibitions:
2023. Calella, SP. / Festimatge.
2022. Annecy, FR. / Fotoprix.
2021. Bilbao, SP. / Bilboargazki.
2021. Madrid, SP. / Callao City Arts.
2019. Maubourguet, FR. / Quinzaine de l'Image.
2018. Alicante, SP. / Fotomatón Festival.
2018. Cannes, FR. / Lions Festival of Creativity.
2018. Santander, SP. / XIV BEAU.

Group Exhibitions:
2023. Florence, IT. / XIV Florence Biennale
2019. Miami, US. / Scope Art Show.
2019. Tel Aviv, IL. / Photo Is:rael.
2018. New Delhi, IN. / Moments in Architecture FCDI.
2017. Tokyo, JP. / Tiny People. Artless Appointment Gallery.
2017. Athens, GR. / The Body and the City. Art4more.