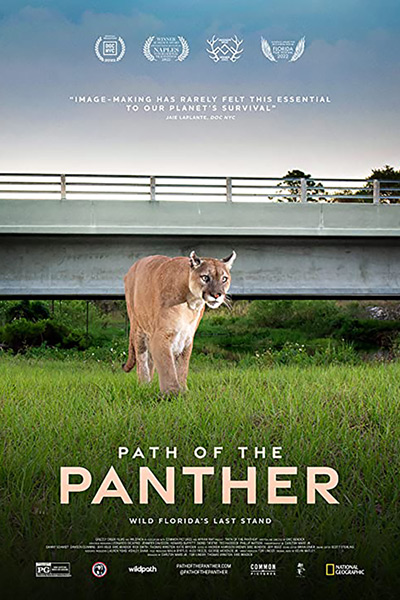 Path of the Panther
Path of the Panther is an award-winning film that documents the front lines of an accelerating battle between forces of renewal and destruction that have pushed the Everglades to the brink of ecological collapse.
A once-in-a-lifetime sighting triggers a deep dive into the uncharted world of the Florida Panther. It's a race against time – to reveal the unseen natural history of an icon surviving in an ancient ecosystem – before a surge of new roads and development transforms Florida's last connected landscape into cookie-cutter suburbia. On the front lines of a struggle resonating across the globe, battle lines are being drawn. Territory marked. But whose dominion is this? The future of the Panther and our planet may rest on the answer.
"These animals are like ghosts," says Carlton Ward Jr.-National Geographic explorer, photographer, and 8th generation Floridian-at the beginning of this captivating film that endeavors to keep the Florida Panther from becoming just that: a ghost. As the last big cat surviving in the eastern United States and the state animal of Florida, the panther is an icon of Florida's ever-diminishing wild places, as revealed in the film's sumptuous images. Leading a team that includes cowboys, wildlife biologists, photographers/videographers, and a lot of folks who simply care about the future of Florida's fragile ecology, Ward treks repeatedly into the Everglades and expanses of South Florida to seek, record, and save these ghosts. The Florida Wildlife Corridor policy, aimed at connecting habitats to protect panthers from encroaching development and toll roads (the greatest threats to cats and ranchers, both threatened species), represents the last best hope. Will the panthers survive long enough to stride the corridor? And what does their struggle presage for us and other species? Path of the Panther strives to answer these questions with extraordinary passion, stunning imagery, and heartbreaking pathos. This film has the capacity to create powerful change in our state and in our own hearts.
Eric Bendick … producer
Howard G. Buffett … executive producer
Avela Grenier … consulting producer
Shasta Grenier … consulting producer
Ted Haddock … executive producer
Tori Linder … producer
Danny Schmidt … consulting producer
Ashley Siana … associate producer
Sigrid Tiedke … executive producer
Carlton Ward Jr. … producer
Thomas Winston … producer
Lauren Yoho … associate producer