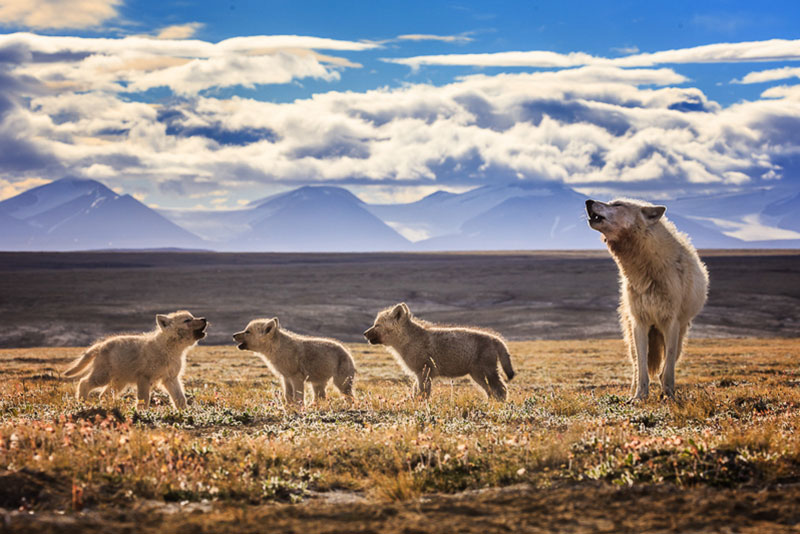 The Human Connection to Wolves: From Yellowstone To The Arctic
Join photographer Ronan Donovan as he explores the deep connection between humans and wolves that dates back thousands of years from when early humans first began domesticating wild wolves. Why do domestic wolves and dogs hold such a prominent place in our world today? What is it about the bond between humans and dogs that is so special and unlike any other in the world of domesticated animals?
Ronan has spent significant time observing wild wolves in Yellowstone National Park, where they can be seen daily. However, it can be challenging to photograph them without disrupting their natural behaviours. Wolves in Yellowstone are often fearful of humans, so the images captured often do not show the full scope of their lives – including raising pups, playing, sleeping, hunting, and more.
To learn more about wild wolves and capture a more holistic portrayal of their lives, Ronan travelled to the High Arctic, where wolves have no reason to fear humans. Don't miss this opportunity to see the hidden side of wolf behaviour and learn more about these fascinating creatures through Ronan's captivating photographs.
Speaker
Ronan Donnovan

Ronan Donnovan

National Geographic Explorer Ronan Donovan's love of the natural world was born, as he was, in rural Vermont. A field biologist turned wildlife photographer and filmmaker, Ronan has worked on all seven continents, with experiences ranging from documenting wild chimpanzees in Uganda to chronicling the life of one of Yellowstone's iconic species, the grey wolf, for the May 2016 Yellowstone issue of National Geographic magazine.