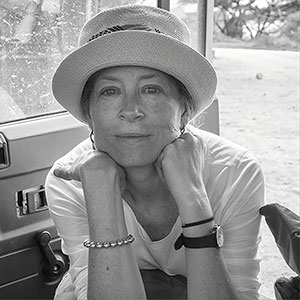 Kathy Moran is a founding member of the International League of Conservation Photographers and has served on the Executive Committee.   In that role, she has edited numerous books for ILCP photographers published with the University of Chicago Press.  She served on the Executive Committee of Wildscreen USA.
Kathy was formerly Deputy Director of Photography at National Geographic and was the magazine's first senior editor for natural history projects. A 37-year veteran of the Society, Moran has been producing projects about terrestrial and underwater ecosystems for the magazine since 1990. She lives in Arlington, VA, with her husband and three bad cats.
At the last count Kathy Moran has edited over 300 stories for the magazine. Recent highlights include editing the May 2016 issue on Yellowstone as well as Brent Stirton's award-winning coverages of Virunga and Rhino Trade.
Moran was the project manager for the National Geographic Society/Wildlife Conservation Society's collaboration of photographer Nick Nichols and Dr Michael Fay's trek across Central Africa.  The resulting stories were the impetus for the creation of Gabon's national park system.
Kathy Moran has edited several books for the Society, including Women Photographers at the National Geographic, The Africa Diaries – An Illustrated Life in the Bush, Cat Shots and most recently, Tigers Forever.  She was the photo editor for two anthems of wildlife photography, "100 Best Wildlife Pictures" and "Wildlife, The Best Photos." She was named "Picture Editor of the Year" for her winning portfolio in the 2006 Pictures of the Year competition and 2011 Best of Photo competition.
She has been on the jury for numerous photo competitions including Por el Planeta, Big Picture Natural World Competition, POYi, Wildlife Photographer of the Year and European Wildlife Photographer of the Year.
In 2018 Kathy was awarded Magazine / Media Visual Editor of the Year by POYi.