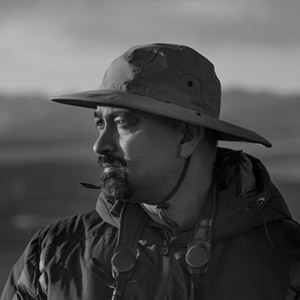 Award-winning filmmaker and National Geographic Fellow Sandesh Kadur creates documentary films that air worldwide on prominent networks such as National Geographic, the BBC, Netflix, Discovery Channel, and Animal Planet. He is a Senior Fellow of the International League of Conservation Photographers and the Founder/Director of Felis Creations – a natural history production house based in Bangalore, India, that focuses on creating content that inspires conservation.
Sandesh sees the world from behind his camera from a different angle. Using the power of imagery, he exposes the need for conservation and encourages the protection of the world's biodiversity. His goal is to inspire his audience to appreciate and preserve what remains of our wilderness.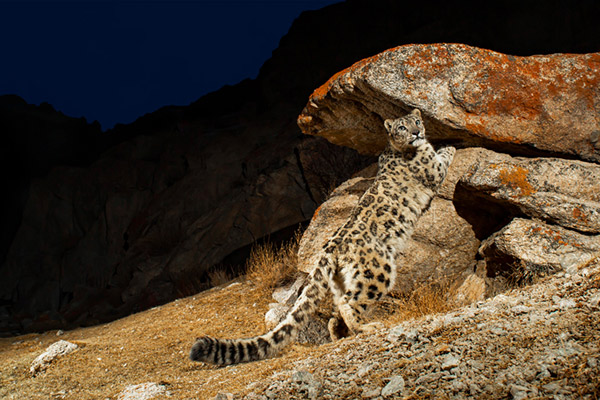 Sandesh produces a 3-part docuseries for National Geographic titled "Wild Cats of India x2 " and "India's Wild Leopards x1". He is also known for his work on 'Our Planet' by Netflix, BBC's Planet Earth II, and 'The Okavango Experience', a 360o, virtual reality series that follows the National Geographic Society's Okavango Wilderness Project. His first documentary, Sahyadris: Mountains of the Monsoon (2002), earned critical acclaim while drawing attention to one of the world's top biodiversity hotspots and helped convince UNESCO to name the Western Ghats a World Heritage Site in 2012. Over the years, Sandesh has documented myriad species and landscapes ranging from endangered turtles in Mexico to elusive snow leopards in the Himalayas to the fragile Tompotikan peninsula of Sulawesi.
Sandesh's work has won many prestigious international awards, including a 2017 EMMY nomination & the 2017 BAFTA Award for his work on BBC's Planet Earth II. In 2022 Sandesh received the Climate Category Award at the Nature Conservancy's Photography Awards. 2013 Sandesh received the Nature's Best Windland Smith Rice Award and the North American Nature Photographers (NANPA) Vision. He has also won the International Conservation Photographer Award (2012), CIWEM Environmental Photographer of the Year (2008), Gold REMI Award for Creative Excellence (2008), and was nominated twice for a Green Oscar at the Wildscreen Film Festival.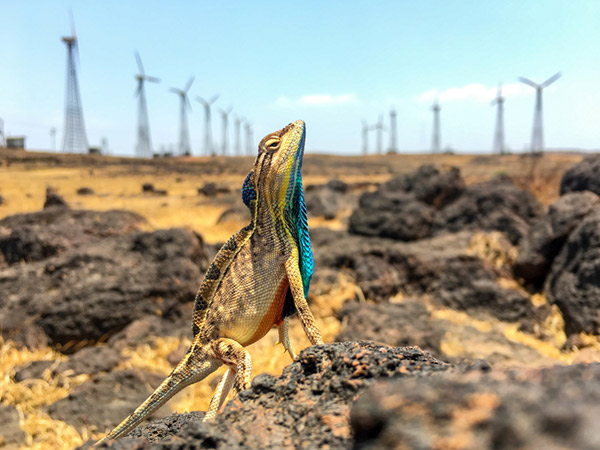 True to his name, Sandesh (meaning: Message), uses his photographic mastery and his passion for wildlife to communicate the richness and beauty of nature far beyond its boundaries. He continues to make his home in forests across the globe to harness the power of nature education as a catalyst for long-term change. He hopes his photographs and documentaries will reveal places and species people rarely see and inspire a new passion for protecting them.
Books, Films and Exhibitions
DOCUMENTARIES:

2020 National Geographic & ABC: Born Wild - Next Generation - Presenter
2019 National Geographic: Wildcats of India: 2 Part Series - Producer & Director of Photography
2019 National Geographic: India's Wild Leopards - Producer & Director of Photography
2019 BBC: Seven Worlds One Planet Sequence shoot - Behavior of Fan-throated Lizards
2019 Netflix: Our Planet Sequence shoot - Forests & Deserts
2018 National Geographic: The Okavango Experience - 360o VR series
2017 BBC: Natural World Sequence shoot - Super Squirrel
2016 BBC: Planet Earth II Sequence shoot - Cities & Grasslands
2015 BBC: India: Nature's Wonderland Sequence shoot – Episodes 1 & 2
2014 BBC: Wonders of the Monsoon Sequence shoot – Episodes 2 & 5
2011 National Geographic: Return of the Clouded Leopards
2011 National Geographic: Secrets of Wild India
2009 National Geographic: The Secrets of the King Cobra
2008 BBC Natural World/Animal Planet: Mountains of the Monsoon

PUBLICATIONS:

2013 Himalaya: Mountains of Life
2005 Sahyadris: India's Western Ghats

EXHIBITIONS:

2016 Art Bengaluru Gallery: Elements of Nature